Humanities
The Ph.D. degree program in the humanities is an interdisciplinary program linking anthropological, philosophical and linguistic disciplines, tailored to the needs of individual students.
The program provides students with a flexible, interdisciplinary framework, built on connections among specific courses and areas of interest. Our Ph.D. students go through rigorous theoretical and methodological training that imparts strong research and analytical skills and enables students to adapt to the constantly changing 21st century labor market. The program enables students to study fields and disciplines that are underrepresented in other Slovene higher learning institutions.
Academic excellence. Innovative programs. Real-world connections. First-class educational experience. Impact your career. Study in the heart of Europe.
---
Courses
HUMANITIES CURRICULUM
Course
ECTS
Mandatory courses
1
Humanities I
15
2
Humanities II
15
Elective Courses
3
Interdisciplinary methodologies
5
4
Balkan anthropology
5
5
Anthropology of knowledge
5
6
Anthropology of religion and believing
5
7
Communication and society
5
8
Anthropology of labor and migrations
5
9
Film and popular culture theory
5
10
Sexuality and love studies
5
11
Radical etnographical methods and feminist studies
5
12
Behavior and discourse
5
13
Gender and popular culture
5
14
Anthropology of artistic practice
5
| | Other activities | ECTS |
| --- | --- | --- |
| 15 | Preparation for doctoral thesis | 10 |
| 16 | Doctoral seminar 1-doctoral thesis subject registration | 10 |
| 17 | Individual research (for the doctoral thesis) | 10 |
| 18 | Doctoral seminar 2 | 10 |
In the 3. Year students prepare and defend their doctoral thesis.
Faculty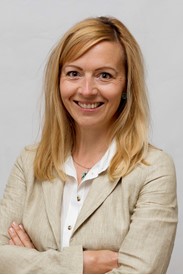 Courses:
Undergraduate: Humanities
Graduate: European Business Studies, Humanities
Graduate: Strategic Communication Management, Humanities
CV:
Bibliography: Read more
Cirila Toplak, prof. Ph.D., is a former consultant for European Affairs in the Office of the President of the Republic of Slovenia. She received her Ph.D. in History – International Relations at the University of Sorbonne in Paris, France, after obtaining the Master's from Humanistic studies at the State University of New York, Buffalo, USA. Since 2001 teaches and researches at the Ljubljana Faculty of Social Sciences. She is also in charge of Research Center for political theory at Faculty of Social Sciences. In 2006, as a Fulbright scholar she did her research at Georgetown University in Washington, DC, USA. In 2007 and 2008 she was director of the Institute for Ethnic Studies. In 2007 and 2010 she was a visiting professor at Hawaii Pacific University in Honolulu. In 2007 and 2008 she was a director of the Institute for Ethnic Studies. She has been a Vice-President of the Slovenian Political Science Association form 2011 to 2013. In the years of 2006 – 2008 she was a Secretary General of the European Political Science Networks epsNet, since 2010 a member of the Executive Committee and the treasurer of the European Confederation of Political Science Associations ECPSA.
Advantages
The institute provides an intellectually supportive and professionally enriching environment for postgraduate students. By focusing on specialized research of your own design, you will have a much greater degree of freedom to exercise your own creativity and imagination. You will also have the responsibility of exercising your own independent judgment and critical thinking, and of expressing your ideas in a distinctive scholarly voice.
All our lectures are filmed and e-learning supported. You can watch them in live stream and re-run them at home as many times as you like.
Employability
Graduates of our Humanities Ph.D. program are trained to communicate clearly, think critically and make reasoned choices - skills that will be in demand in just about any profession. Graduates will acquire the skills they need to pursue careers in research, governmental and non-governmental organizations, communications, and media.