Nursing
Alma Mater Europaea - ECM's undergraduate program in Nursing provides a broad foundation in nursing, as well as in the biological and social sciences, which are essential in the training of skilled professional nurses.
Because you will make an invaluable contribution to society, you deserve to be educated at a school which will both challenge and nurture you, and give you the option to pursue diverse opportunities.
The Alma Mater Europaea bachelor in Nursing program offers both academic and clinical nursing courses that provide the basis for professional practice in healthcare delivery across a variety of community and hospital settings.
Throughout the course of your education, the Alma Mater Europaea - ECM teaching staff will mentor you at every step and encourage you to achieve more than you ever thought possible.
Academic excellence. Innovative programs. Real-world connections. First-class educational experience. Impact your career. Study in the heart of Europe.
Courses
NURSING CURRICULUM – 1st YEAR
Course
ECTS
Total per year
60
Total per study program
180
1
Nursing and research
33
2
Nursing ethics and philosophy
3
3
Health care education and promotion of health methodology
3
4
Nursing in elderly care with geriatrics
3
5
Anatomy, physiology, pathology
3
6
Microbiology with parasithology
3
7
Diagnostically-therapeutic program
3
8
Health care and nursing informatics
3
9
Public health
3
10
Elective course
3
NURSING SYLLABUS – 2nd YEAR
Course
ECTS
Total per year
60
Total per study program
180
11
Child and adolescent nursing with pediatrics
9
12
Women's nursing with gynaecology and obstetrics
15
13
Internal patient nursing with internal medicine
18
14
Nursing organization and management
3
15
Health and disease sociology
3
16
Nursing and healthcare psychology
3
17
Elective course
3
18
Elective course
3
19
Elective course
3
NURSING SYLLABUS – 3rd YEAR
Course
ECTS
Total per year
60
Total per study program
180
20
Surgical patient nursing with surgery
18
21
Nursing of mental health patients with psychiatry
9
22
Field nursing
9
24
Nursing supervision
3
24
Emergency service and special conditions health care
9
25
Health care and social legislation
3
26
Elective course
3
27
Elective course
3
28
Diploma thesis
6
Other courses
| | ELECTIVE COURSES | ECTS |
| --- | --- | --- |
| 1 | Selected sections from professional ethics | 3 |
| 2 | Communication and interpersonal relations in nursing and health care | 3 |
| 3 | Hospital infections control | 3 |
| 4 | Human resource management | 3 |
| 5 | Selected sections from supervision | 3 |
| 6 | Health care quality | 3 |
| 7 | Selected sections from elderly health care | 3 |
| 8 | Intensive unit health care | 3 |
Faculty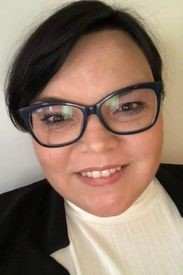 Programs:
Undergraduate: Nursing
CV:
Bibliography: Read more
Dr. Nataša Štandeker is a registered nurse, a Master in Health and Social Care Management and a PhD in Social Gerontology. After seven years as a registered nurse in a special social care institution in Slovenia, she started working in Austria. After completing her Master's degree at the University of Graz, she took up the post of Head of Nursing and Care in a nursing home. Since 2016, she has been a lecturer in Nursing and Social Gerontology at Alma Mater Europaea ECM. She is also active as a lecturer at educational institutions in Austria.
Advantages
Through the acquisition of theoretical knowledge and practical skills, registered nurses develop critical, analytical, and reflective skills to deliver quality care that will improve patient outcomes. The Alma Mater Europaea undergraduate Nursing program provides a solid foundation in nursing care for individuals, families, communities, and people groups across the lifespan and in a wide variety of environments. You will be prepared to work with other healthcare professionals in various healthcare settings. In addition, the program is designed to provide a foundation for further study in Health sciences at the graduate level.
All Alma Mater Europaea - ECM lectures are filmed and e-learning supported. You can watch them in live stream and re-run them at home as many times as you like.
Grants & Partnerships
Employability
Students with skill-focused training in nursing are prepared to work in various healthcare settings.
In the community:
Health clinics
Schools
Wellness programs in the workplace
Doctors' offices
Home care
Family planning clinics
Prenatal and well-baby clinics
Rehabilitation centres
Hospices
In hospitals:
Emergency
Intensive care
Operating room
Post-surgery
Maternity
Cardiovascular (heart)
Oncology (cancer)
Psychiatry
Pediatrics (children)
Palliative (dying people)
Geriatrics (seniors)