Social Gerontology
Alma Mater Europaea - ECM offers an innovative master's program for preparing students to handle issues facing an aging population. The emphasis of the master's degree program in Social Gerontology is on advanced understanding the process of aging from an intergenerational symbiosis perspective.
The Alma Mater Europaea master's program in Social Gerontology positions graduates to pursue their passion for policy and research while studying the mechanics and mysteries of longevity, aging and population health. The Social Gerontology master's program prepares graduates to become leaders who effect policy changes at the local and national levels alike, while applying their knowledge in an array of industries.
This flagship master's program provides students with a comprehensive education in gerontology and policy. The program is designed to provide systematic advanced education in gerontology for those planning to enter professions related to higher education, social services, health services, government, or business.
Academic excellence. Innovative programs. Real-world connections. First-class educational experience. Impact your career. Study in the heart of Europe.
Courses
SOCIAL GERONTOLOGY CURRICULUM
Course
ECTS
Total per year
60
Total per study program
120
1. year
1
Operational methodology in Social gerontology (qulitative and quantitve methods; methodological seminar)
A
10
2
Elderly and society
or
Sociologial aspects of aging
C
10
3
Geronological networking organization systems and international comparison
B
10
4
Organization – quality and excellence
A
10
5
Elderly and thought processes in old age
or
Psychology and filosophy of health
C
10
6
Master thesis seminar (scientific writing)
B
10
Types of courses:
A: mandatory theoretical and methodological course
B: professionaly oriented courses
C: elective course from the Social Gerontology program
D: elective course from other Alma Mater Europaea ECM programs
MANDATORY AND ELECTIVE COURSES
Course (students must gather 30 ECTS)
ECTS
Total per year
60
Total per study program
120
2. year
1
Communication and counseling in Social gerontology
C
10
2
Health and medical assistance economics
C
10
3
Secure old age economical aspects
C
10
4
Elderly population social politics
C
10
5
Gerontology as a field of research
C
10
6
Behavioral old age aspects
C
10
7
Long term care
C
10
8
Creative types of team work
D
10
9
Diversity in aging
C
10
10
Old age and retirement issues
C
10
11
Aging and communal care
C
10
12
Palliative assistance
C
10
13
Own old age organizational form
C
10
14
New forms of elderly assistance
C
10
15
Anthropology and trend identification
D
10
16
Designing in gerontology
C
10
17
Leisure time management
D
10
Total
30
18
Master thesis
A
30
Types of courses:
A: mandatory theoretical and methodological course
B: professionaly oriented courses
C: elective course from the Social Gerontology program
D: elective course from other Alma Mater Europaea ECM programs
Faculty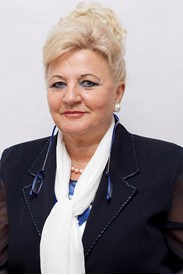 Courses:
Undergraduate: Archives Management, Social Gerontology, Management
Graduate: Social Gerontology, Management
Graduate: Archival Sciences, Social Gerontology
CV:
Bibliography: Read more
Marija Ovsenik, Ph.D., is a professor and leading Slovenian expert in the field of social gerontology. She received a doctoral degree from the Faculty of political sciences in Sarajevo, Bosnia and Herzegovina and from the Faculty of organization studies in Novo mesto, Slovenia and completed a specialist program in Human resources management in non-profit organizations at the University of Ljubljana. In 1996 Marija Ovsenik received an award from the Ministry of Labor, Family and Social Affairs for exceptional achievements in the field of social protection. She is the author and co-author of numerous scientific and research publications and Head of the Social Gerontology department at Alma Mater Europaea – ECM.
Advantages
Alma Mater Europaea is committed to providing students with a broad theoretical understanding of lifespan development. Master's-level students will take a wide variety of courses and work closely with faculty to enable them to sharpen their critical thinking and analytical skills, and acquire an in-depth knowledge of aging.
The graduate degree in Social Gerontology will provide education for those interested in the area of policy, theory and its applications, health and aging, community services, program development, and biostatistical evaluation. Students will gain a better understanding of the roles of older people and their contributions to society. The program will also prepare students for entry to doctoral level education.
All Alma Mater Europaea - ECM lectures are filmed and e-learning supported. You can watch them in live stream and re-run them at home as many times as you like.
Employability
With your degree, you may seek immediate employment in health care, academia, research, government or policy. A master's degree in gerontology qualifies you for a career working directly with older people or indirectly for their benefit.
Specific job titles depend upon the industry in which you work. Some gerontologists become researchers and study mental and physical aging processes and how they affect populations. Others work in policy to amend laws and regulations that affect older people. If you work in industry or government, you may be involved in designing new products to meet specific needs of the elderly.
Common employers include community organizations, retirement communities, non-profit agencies, social services, clinics, hospitals, research facilities, hospices, government agencies and home health care facilities. Alternatively, you may start your own consulting business and advise other health care agencies and businesses on the best products and services for older adults.