Business Management
The aim of the Alma Mater Europaea - ECM Management master's program is to give students a thorough understanding of the meaning of organizational viability and sustainable growth within the context of a rapidly globalizing and increasingly complex business environment, to help them develop an appreciation of the managerial capabilities required to establish and maintain the conditions for viability and sustainability within this context, and to provide learning opportunities designed to further their ability to manage their own future learning and self-development. The program places particular emphasis on helping students develop rigor and confidence in their own ability to think and work in a strategic context.
Academic excellence. Innovative programs. Real-world connections. First-class educational experience. Impact your career. Study in the heart of Europe.
Courses
MANAGEMENT CURRICULUM – 1st YEAR
Course
ECTS
Total per year
60
Total per study program
120
1. semester
1
Research, research methods and systemic approach
10
2
Service management
10
3
Human resources management
10
Total
30
2. semester
4
Supply chain management
10
5
Finance law
10
6
Inovation management
10
Total
30
MANAGEMENT SYLLABUS – 2nd YEAR
Course
ECTS
Total per year
60
Total per study program
120
3. semester
7
Elective course I
10
8
Elective course II
10
9
Elective course III
10
Total
30
4. semester
10
Master thesis
30
Total
30
Other courses
| | ELECTIVE COURSES | ECTS |
| --- | --- | --- |
| 1 | Informational Activity Management | 10 |
| 2 | Artificial intelligence | 10 |
| 3 | Business Intelligence | 10 |
| 4 | Creative process management | 10 |
| 5 | Business Plan Preparation | 10 |
| 6 | Creative Work Evaluation | 10 |
| 7 | Knowledge Management | 10 |
| 8 | International Entreprenual Finance | 10 |
| 9 | International Finance Law | 10 |
| 10 | Company revenue control | 10 |
| 11 | Labor law | 10 |
| 12 | Business accountancy | 10 |
| 13 | Personal finance | 10 |
Faculty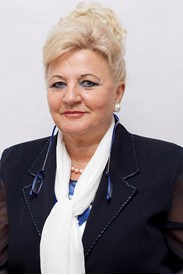 Programs:
Undergraduate: Archives Management, Business Management , Social Gerontology
Graduate: Business Management , Social Gerontology
Graduate: Archival Sciences, Social Gerontology
CV:
Bibliography: Read more
Marija Ovsenik, Ph.D., is a professor and leading Slovenian expert in the field of social gerontology. She received a doctoral degree from the Faculty of political sciences in Sarajevo, Bosnia and Herzegovina and from the Faculty of organization studies in Novo mesto, Slovenia and completed a specialist program in Human resources management in non-profit organizations at the University of Ljubljana. In 1996 Marija Ovsenik received an award from the Ministry of Labor, Family and Social Affairs for exceptional achievements in the field of social protection. She is the author and co-author of numerous scientific and research publications and Head of the Social Gerontology department at Alma Mater Europaea – ECM.
Advantages
The Alma Mater Europaea - ECM Management master's program will introduce you to the fundamental principles and concepts of strategic management, offering you an opportunity to develop your skills in strategic thinking and analysis. Students learn about business (i.e. competitive) strategy and corporate strategy formulation relevant to the macro-environmental, industrial and competitive drivers facing the organization, as well as the role that purpose, resources and capabilities play in strategy formation and action.
Students learn to improve competency levels and job performance, guide their organizations to invest in their workforce, and recruit, hire, and train the right individuals. Management degree graduates become experts in positively steering organizational change and creating a culture of teamwork, in a degree program that is designed for the working professional.
All Alma Mater Europaea - ECM lectures are filmed and e-learning supported. You can watch them in live stream and re-run them at home as many times as you like.
Grants & Partnerships
Employability
The Alma Mater Europaea - ECM Management Master's program prepares graduates for middle- and top-level management positions in the private and public sector, as well as for independent entrepreneurship.
Some of the most common careers of Management graduates are:
Chief financial officer
Client relationship manager
Commercial underwriter
Company president
Actuary
Corporate banking director
Logistics center manager
Brand manager
Fund manager
Operational researcher