Humanities
Master's degree program in Humanities at Alma Mater Europaea - Institutum Studiorum Humanitatis provides students with an interdisciplinary and individualized approach to the selected field of science, and ensures a broad and in-depth knowledge of various academic disciplines within Humanities.
Vitally important in terms of support are our faculty and mentors from the ranks of Slovenian academic elite as well as the best specialized library for Humanities in Slovenia.
The Alma Mater Europaea - Institutum Studiorum Humanitatis Master's in Humanities trains intellectuals in a well-grounded critical perspectivisation of societal processes and phenomena. In addition to communication skills and capacity for self-reflection, students of this program acquire excellent education in Humanities, enabling them to recognize, interpret and manage knowledge systems as well as cultural, political and other social practices. This study program is based on world-class theory and genuinely curiosity-driven research, with research issues mostly addressing current human/societal needs. Studying as an intellectual challenge and pleasure!
Academic excellence. Innovative programs. Real-world connections. First-class educational experience. Impact your career. Study in the heart of Europe.
---
Courses
1. LETNIK
Predmet
ECTS
Skupaj za 1.letnik
60
1. semester
1
Epistemologija
10
2
Družbena komunikacija in mediji
10
3
Izbirni predmet 1
5
4
Izbirni predmet 2
5
2. semester
5
Zgodovinska antropologija in regionalne študije
10
6
Antropologija spolov in kultur
10
7
Izbirni predmet 3
5
8
Izbirni predmet 4
5
2. LETNIK
Predmet
ECTS
Skupaj za 2.letnik
60
Skupaj za celotni program
120
3. semester
9
Izbirni predmet 5
5
10
Izbirni predmet 6
5
11
Izbirni predmet 7
5
12
Izbirni predmet 8
5
13
Izbirni predmet 9
5
14
Izbirni predmet 10
5
4. semester
15
Priprava in izdelava magistrskega dela
30
IZBIRNI PREDMETI
| | Predmet | ECTS |
| --- | --- | --- |
| 1 | Rituali od plemenskih skupnosti do države – zgodovinsko-antropološko-pravne študije | 5 |
| 2 | Filozofija narave: umetnost, znanost in estetika | 5 |
| 3 | Fevdalna Evropa | 5 |
| 4 | Semiotika vsakdanjega življenja | 5 |
| 5 | Sodobne teorije v umetnosti | 5 |
| 6 | Filozofija človekovih pravic | 5 |
| 7 | Izbrana poglavja iz filozofije in sociologije športa | 5 |
| 8 | Prostor, telo in novi mediji v umetnosti in estetiki | 5 |
| 9 | Religija in družba | 5 |
| 10 | Medijski študiji | 5 |
| 11 | Umetnost in življenje: filozofske teorije in umetniške prakse | 5 |
| 12 | Novi mediji v vsakdanjem življenju | 5 |
| 13 | Zgodovina feminizma | 5 |
Faculty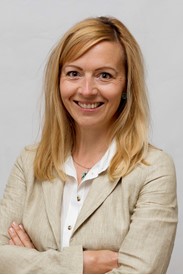 Courses:
Undergraduate: Humanities
Graduate: European Business Studies, Humanities
Graduate: Strategic Communication Management, Humanities
CV:
Bibliography: Read more
Cirila Toplak, prof. Ph.D., is a former consultant for European Affairs in the Office of the President of the Republic of Slovenia. She received her Ph.D. in History – International Relations at the University of Sorbonne in Paris, France, after obtaining the Master's from Humanistic studies at the State University of New York, Buffalo, USA. Since 2001 teaches and researches at the Ljubljana Faculty of Social Sciences. She is also in charge of Research Center for political theory at Faculty of Social Sciences. In 2006, as a Fulbright scholar she did her research at Georgetown University in Washington, DC, USA. In 2007 and 2008 she was director of the Institute for Ethnic Studies. In 2007 and 2010 she was a visiting professor at Hawaii Pacific University in Honolulu. In 2007 and 2008 she was a director of the Institute for Ethnic Studies. She has been a Vice-President of the Slovenian Political Science Association form 2011 to 2013. In the years of 2006 – 2008 she was a Secretary General of the European Political Science Networks epsNet, since 2010 a member of the Executive Committee and the treasurer of the European Confederation of Political Science Associations ECPSA.
Advantages
Alma Mater Europaea - ECM provides an intellectually enriching, professionally enriching and supportive environment for postgraduate students. By focusing on specialized research of your own design, you will have a much greater degree of freedom to extend your own creativity and imagination. You will also be responsible for exercising your own independent judgment and critical thinking, and expressing your ideas with a distinctive scholarly voice.
All our lectures are filmed and e-learning supported. You can watch them in live stream and re-run them at home as many times as you like.
Employability
Graduates of the Alma Mater Europaea master in Humanities program are trained to communicate clearly, think critically and make reasoned choices - skills that will be in demand in just about any profession. Graduates will gain the skills they need to pursue careers in research, governmental and non-governmental organizations, communications and media.