Social Gerontology
Alma Mater Europaea - ECM offers an innovative bachelor program in Social Gerontology for preparing students to address issues facing an aging population.
The emphasis of the Alma Mater Europaea undergraduate program in Social Gerontology is on helping students understand the process of aging from an intergenerational symbiosis perspective.
Gerontologists study the cultural, physical, social, and economic conditions of older adults. Social Gerontology is concerned with more social aspects of how aging affects populations. In recent years, issues in minority aging have received particular attention.
By most accounts, careers in the field of aging are going to be among the next big things in the 21st Century workplace.
The Alma Mater Europaea Social Gerontology bachelor program prepares students to work with older people in a wide variety of settings, such as long-term care and retirement facilities, senior centers, government offices on aging at all levels, home health care agencies, adult day care programs, and others.
Academic excellence. Innovative programs. Real-world connections. First-class educational experience. Impact your career. Study in the heart of Europe.
Courses
SOCIAL GERONTOLOGY - CURRICULUM 1st YEAR
Course
ECTS
Total per year
60
Basic professional module
1
Psychological, sociologial and andragogical factors of aging
6
2
Social Gerontology
9
Leadership module
3
Communication in Social Gerontology
6
4
Organization and social management
9
Business module (students select one course)
5
Accounting and finance
3
6
Principles of micro, macro and environmental economics
3
Medically – rehabilitation module
7
Integrated Rehabilitation in the aging process and/or after an injury
6
8
Health, Diseases and Aging
6
Occupational-animation module (students select one course)
9
Occupational therapy and employment activities
3
10
Motivation for interest activities and maintaining of activities
3
Methodological module
11
Basics of metodology and research
6
Foreign language
12
Business Communication in English
3
Practical training module
13
Practical Training I
3
SOCIAL GERONTOLOGY SYLLABUS – 2nd YEAR
Course
ECTS
Total per year
60
Basic professional module (students select two courses)
14
Principles of social psychiatry
3
15
Demographic aspects of aging
3
16
Anthropology of family life
3
17
Supervision in social gerontology
3
Leadership module
18
Organizational behavior and HRM
9
19
Teamwork and excellence in services
6
20
Communication between generations
6
Business module (students gather 6 ECTS)
21
Social Marketing
3
22
Non-profit organizations
6
23
Volunteering
3
Occupational-animation module (students select one course)
24
The organization of free time: new approaches to organizing free time
6
25
The organization of free time: recreational sport program
6
Philosophy and religions
26
Basics of philosophy and ethics
3
Palliative care
27
Palliative care
6
Methodological module
28
Basics of informatics
6
Practical training module
29
Practical Training II
6
SOCIAL GERONTOLOGY SYLLABUS – 3rd YEAR
Course
ECTS
Total per year
60
Total per study program
180
Basic professional module (students select two courses)
30
Social work approaches with immobile and disabled people
6
31
Approaches of social work with elderly
6
32
Elderly care in the community
6
Leadership module
33
Project work in social gerontology
6
34
Organisational culture
6
Business module (students select one course)
35
Health Economics
3
36
Economic aspects of secure age
3
37
Legal aspects of secure age
3
Philosophy and religions
38
Basics of religions and acceptance of diversity
6
Practical training
39
Professional Practice
12
DIPLOMA THESIS
40
Diploma thesis
15
Faculty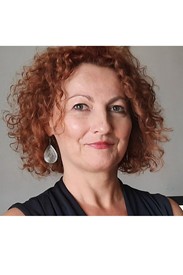 Courses:
Undergraduate: Social Gerontology
CV:
Bibliography: Read more
She has been active for more than twenty years in the design and implementation of community models for helping people with long-term mental health problems. She is the president of the NGO Altra, where she is also employed.
She is member of professional, scientific and working groups in the field of mental health and social care at various state institutions, e.g. Social Chamber of Slovenia, Ministry of Labor, Family, Social Affairs and Equal Opportunities, National Institute of Public Health, Ministry of Health, Faculty of Social Work, Institute of Social Welfare, Government of the Republic of Slovenia for Mental Health.
She also has experience with international projects and cooperation, most recently as a Senior Expert and Social Inclusion of People with Disabilities in the project "Supporting Modernization and De-Institutionalization of Social Services" in Northern Macedonia, where she worked as an expert in education and training of professional providers. in the field of implementation of deinstitutionalization and modernization of the social protection system.
Advantages
Alma Mater Europaea is committed to providing students with a broad theoretical understanding of lifespan development complemented by practical experience. Students will gain a better understanding of the roles of older adults and their contributions to society. As the field of aging is very diverse, there is a wide range of employment opportunities. Its relative newness means that there are opportunities for innovative ideas and new programs and products.
All Alma Mater Europaea - ECM lectures are filmed and e-learning supported. You can watch them in live stream and re-run them at home as many times as you like.
Employability
Students with skills and training in Social Gerontology will be able to work with older adults or as advocates for older adults. Career opportunities are available in different settings.
Business - Industry
Advertising, Marketing & Business
Technology & Assistive Devices
Job Placement Services
Home & Community-Based Services
Information & Referral
Care Management
Area Agency on Aging Planning
Transportation
Housing
Senior Center
Adult Day Cares
On-site & Delivered Meal Programs
Recreation & Leisure Services
Family & Intergenerational Programs
Volunteer Activities
Life Long Learning Programs
Educational Programs
Hospitality & Food Service
Health & Social Services
Health Education
Nutrition
Health Promotion & Fitness Programs
Speech & Communication
Mental Health
Nursing & Geriatrics
Rehabilitation
Counseling
Ministry